Account Based Marketing is one of the strongest ways to gain clients. For B2B especially, you need to develop deep, personal relationships with your potential business accounts, and the
main platform for doing ABM is LinkedIn
.
LinkedIn is a business network that offers a variety of Marketing and Advertising options to help your company scale your efforts. For ABM, LinkedIn tends to outshine other channels and social media platforms for reaching out to the right target.
In this article, you will discover if Account Based Marketing is right for your business, learn options and best practices for performing ABM on LinkedIn, and see what other Marketing activities you should be performing alongside an ABM strategy.
First, who is Account Based Marketing for?
ABM tends to work best for B2B companies with large accounts or accounts in a specific industry. Many times, Sales teams already have an account-based approach, but getting Marketing involved can help scale your efforts and speed up the B2B sales process. Customers will also benefit from ABM in the form of a better experience. For example, if you are targeting a large global enterprise, you will probably have different points of contact for different departments: Sales, Management, Procurement...tailor-made content for each of these departments will allow you to highlight different features that are important to each department.
Next, why choose an ABM strategy?
Want to get more out of Marketing? Your Marketing efforts can now directly impact revenue growth because ABM focuses on relationships with high opportunity, high-value accounts. By combining efforts and resources, and getting in sync on messaging and roles, Marketing and Sales teams can more efficiently engage and convert accounts. You'll even be able to do tailored outreach within specific areas of accounts, for certain buying teams and decision-makers.
Sales and Marketing need to be very-well aligned. These two departments agree on everything from goals to content to evaluation. The good news is that most professionals are quite familiar with LinkedIn, so they will easily be able to interpret results obtained from the platform during your ABM campaigns.
6 LinkedIn Options and Best Practices for ABM
When creating your ABM strategy, count on LinkedIn as your best ally. LinkedIn offers a wide variety of options for businesses looking to scale their Marketing and Advertising efforts. For ABM in particular, we should look into the 6 options below (#1-3 are options for LinkedIn Ads, while #4-5 work best with LinkedIn Sales Navigator):
LinkedIn Sponsored Content: Sponsored content campaigns are often used to display relevant content to a certain segment of your audience. Create targeted content and creative assets personalized for each of your custom segments. Some different formats include: single image ads, carousel ads, and video ads. Best Practice: Single image ads need to be your most creative content in order to stand out, use carousel ads to display different options with your products/services, and video ads are for visually explaining processes.

Sponsored InMail: These are direct outreach messages from a sales rep or sharing a personalized offer. InMail helps us engage hard-to-reach audiences. InMail is high-quality and low-frequency, meaning these messages have more weight than a random email. Also, check out this brand-new feature called Conversation Ads in 1-to-1 messaging. Best Practice: Choosing the right sender and subject line, as well as a straightforward message and CTA, will help improve your conversion rate.

Website Retargeting: Retargeting is a great way to send a gentle reminder to potential leads. The fact is, sometimes people need to check out the options and think before making a decision; however, oftentimes we don't re-engage unless we get a reminder. For businesses, a great ABM tactic for LinkedIn is to re-engage website or Landing Page visitors by using retargeting and conversion tracking. Best Practice: Don't go overboard on re-targeting or your audience will get annoyed or frustrated with your content.

Email Contact Targeting: Some businesses may already have a list of current or potential clients they want to reach out to online. LinkedIn lets you important or integrate your contact email lists. Set this up by connecting your CRM or data platform or uploading lists of email addresses. Best Practice: Tailor content to each group of emails from your target companies.

Account Targeting: LinkedIn Account Targeting is a new feature that lets us reach end decision-makers more easily by running targeted ABM campaigns that match your target companies against millions of LinkedIn pages. This is done through curated lists on LinkedIn that can include the company name, industry, country, email, contact, etc. Account targeting is then activated based on campaigns and unique audiences. It is highly customized and one of the most advanced features LinkedIn offers for ABM.

Best Practice:

This option should only be used for large, detailed B2B accounts.
HubSpot Integration: There is nothing better than having an all-in-one platform to manage your CRM, Marketing channels, and ABM campaigns. If you are a HubSpot user, you can get the most out of both platforms with the HubSpot LinkedIn integration. Manage, organize, and measure ads right from HubSpot. Talk about an all-in-one platform!
Content Strategy for ABM on LinkedIn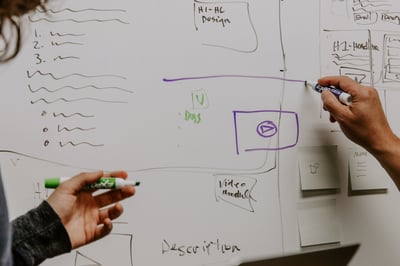 While researching your account targets, often known as Buyer Personas in Inbound Marketing, you will need to understand everything about potential buyers as well as their buying journey. Know who they are and where to meet them. To do this, map out the Buyer's Journey.
Once you understand your buyers and what they're facing, you need to create personalized content. Have strong copywriting, images, and CTAs. Your strategy should be to showcase your thought-leadership and authority within your industry. Think about using Case Studies and Whitepapers as downloadable content, which will then incorporate leads into your lead nurturing processes.
Finally, make sure you frame your unique value proposition. Study your industry and competitors to see what works and how you can improve on it. Tends to vary by role, industry, age, etc. Through this research, as well as your own insights into your ideal client, you will be able to differentiate your content and campaigns in the eyes of your audience.
Other Channels and Marketing Efforts
While LinkedIn tends to be the best channel for B2B, you may need to combine your ABM efforts with other social networks and paid advertising campaigns. Keep in mind that LinkedIn should be part of a larger Inbound Marketing strategy involving your website, blog, email marketing, and communications from sales.
Measure your efforts
LinkedIn offers a variety of metrics that can help you measure your accounts. This, combined with your CRM and a Marketing/Sales platform like HubSpot, will help you see the fruits of your efforts. A/B testing, as well as close monitoring of your campaigns and content, will show you how LinkedIn is improving your Marketing strategy through ABM. The great news is that HubSpot users have a variety of these tools already at their fingertips for analysis including LinkedIn integration, A/B testing, and analytics dashboards. Discover everything that HubSpot can do for ABM.
The fact is, ABM and LinkedIn are a perfect fit, but it can be intimidating to do such advanced campaigns on the platform. mbudo is here to help! If you're delving into the world of ABM, let us guide you. We have real examples we can show you for sectors as varied as heavy industry to consultancy. Drop us a message if you'd like to learn more.