Every Digital Marketing agency is familiar with their own unique set of tools, platforms, and applications. mbudo is a pure Marketing agency in that sense.
Over the years, we have cultivated a digital toolkit that helps us with us Inbound Marketing Strategy and better serve our clients.
Discover the Marketing tools mbudo has found and loved!
Our Top Digital Marketing Tools:
· Basecamp
Need to share and organize content, communicate with team members and clients, make lists, and set deadlines? Basecamp is your sharing/organization miracle worker! We love the list component, which lets you list out your tasks, assign those tasks to your teams, and check them off one by one when they're completed. How satisfying!
· Microsoft Teams
Microsoft Teams is a lot like Basecamp, but more professional in our opinion. Teams is part of Office 365 suite and features messaging, calling (phone and video), and file sharing. Skype for Business is part of this suite, so you're probably already halfway to using Teams!
· Slack
A messaging app that serves all the purposes we need it to. Slack is organized by channels, which are your most-used #hashtags. You also have direct messages between team members. Lastly, it can integrate with platforms like Google Docs, Trello, and more.
· Google Analytics
Google Adwords, keyword planner, insights, analytics...need we say more? Google Analytics is the go-to tool for SEO. There isn't another Paid Search tool that even comes close, in our opinion. Google Analytics tends to be the standard for things like Search Engine Optimization, so stick with this tool for high-quality service and results.
· Zoom
You aren't always going to meet clients face-to-face, or even co-workers and employees. After all, we are living in the Digital Age. That's where audio/video calling tool Zoom comes in. Remember, when doing a teleconference or meeting using these tools, make sure you're in a quiet room with good reception. Do a test call beforehand to check that your sound, video, and microphone are all working as they should. There's nothing more awkward than bad sound on a Zoom call with a client!
· Vidyard
If you're not using videos, you should be! At mbudo, we take advantage of Vidyard, a tool we learned about at HubSpot's INBOUND Conference. Create video presentations or training videos with this useful tool. You'll be an expert in video content in no time - and that's important considering videos are consumers' favorite type of content (source).
· Canva
Looking for some quick and easy design tools and photographs for your mockups or proposals? Canva has quick templates for business cards, social media ads, presentations, reports, and more (or create your own design from custom dimensions). Obviously this won't replace the expert design tools like In Design or Illustrator, but it's a good tool for a quick fix.
For free high-resolution photos, our choice is Unsplash. It features some stock photos, but it mostly consists of creative, beautifully-crafted images. We also use Shutterstock and Pexels.
· Hubspot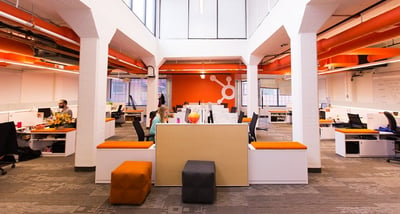 This jack-of-all trades platform serves as a CRM, hosts content (website & blog), and offers a solid reporting function. Almost everything we do at mbudo revolves around HubSpot and we are proud to be experts on the platform. In fact, mbudo is a HubSpot Gold Partner in Spain!
We love the easy-to-use platform and its simplicity. It also offers integration with a ton of other systems, like Salesforce, Mailchimp, and Zapier. But there is so much more to love - check out our post on the benefits and perks of using HubSpot.
Your Marketing toolkit should consist of a variety of digital tools that enable you to do your job well and grow your business. A lot of it is trying out different apps and platforms and seeing what fits best.
If you're interested in an agency that specializes in HubSpot, all the tools above and more, contact mbudo. If you want to get started on your own Marketing strategy, this handy post can help you with that!