According to Sujan Patel (founding partner of Web Profits), we can define Growth Marketing as:
"The combination of marketing, sales, customer success, support and any other division or operation within an organization. An integrated approach to grow a business by taking advantage of all the marketing channels available to it."
Starting from this definition and focusing on the concept of an "integrated approach", we can deduce that the main difference between this type of Marketing and traditional Marketing is that the traditional Marketing focuses on TOFU (top of the Marketing/Sales funnel) while Growth Marketing covers the funnel entirely.
The revenue growth objective is based not only on generating short-term sales opportunities, but on turning existing customers into brand ambassadors.
3 Tips to Implement a Growth Marketing Framework in Your Organization
If you are considering the implementation of a Growth Marketing framework, you must take into account 3 basic aspects:
1. Identify key metrics
First, you need to establish metrics to measure and monitor the success of your efforts, which includes your funnel and the channels you will use. An example of metrics might be reaching an "x" number of new subscriptions, measuring web traffic, new customers and conversion rate. This is just one example and your metrics might be totally different, but keep in mind that you should not measure too many variables if you really want to be able to measure and control.
2. Identify strengths and weaknesses of your business and Marketing channels
As its name suggests, Growth Marketing is based on growth - to be more specific, rapid growth. To meet this objective, we need to understand the weaknesses and strengths of our business in depth.

Although the weaknesses and strengths of each business are unique, there are two types of weaknesses very common in the market: lack of traffic or low conversion rate.
Low traffic: it is impossible to grow fast if we cannot generate adequate traffic levels, even with a high conversion rate.
Low conversion rate: We manage to generate adequate traffic, but when it comes to converting, we fall short. It is a very common problem in organizations and once we have reached this point, we must ask ourselves if the problem lies in our value proposition itself, perhaps we should make small adjustments, or we are simply not transmitting it adequately to our potential clients. Perhaps we are asking for too much information, remember that the amount of data requested must always be proportional to the quality of the content you offer.
How to turn these into strengths:
One of the best methodologies to identify our strengths is to look at the weaknesses of the competitors, that is, what can I offer that really sets me apart from the rest?

With all the above in mind, it is time to visualize everything in order to identify the most appropriate framework in which to operate and improve our Marketing strategy. To achieve this we are going to use the "bullseye framework", a three-stage approach whose main objective is to identify and understand which sales channels help us gain traction and get clients.
Source: Traction: How Any Startup Can Achieve Explosive Customer Growth, Gabriel Weinberg and Justin Mares

As can be seen in the previous image:

Center Ring: The first stage is to establish the channels that work best for your business; an example could be online advertising, content marketing, and SEO positioning.
Middle Ring: Here, we must establish other channels that are not the primary channels but that act as leverage with those from the interior and that could become prominent channels.
Outer Ring: Finally, on the outside are those channels that are not yet within our reach or are not profitable for us, but that we should keep in mind for the future.
Once your bullseye framework is finished, you should make sure that the base of your business is in the center of the ring. If your foundation doesn't align with the Marketing channels that really work for your organization, you may need to go back to the beginning and readjust your value proposition.


3. Get acceptance from the rest of the organization

As we mentioned at the beginning of the post, Growth Marketing is an integrated approach across the organization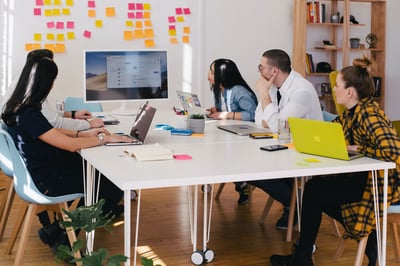 and Marketing channels. That is why all departments must be on-board and work in unison to achieve this growth objective, especially the sales, development, product, and support teams that the Marketing team works with most often. Communication is essential to get the most out of your Growth Marketing framework.
For example, it is salespeople and support staff who speak directly to customers, so we must pay special attention to their comments. In the case of the product development team, it is they who work on improvements and new features that will provoke positive or negative reactions in the client; we can count on them for the adjustments in the value proposition.
These examples illustrate why is really necessary that all departments are willing to collaborate and work together, so that the implementation of this type of methodology is a complete success.


Inbound & Growth Marketing, perfect allies.
The main objective of Growth Marketing is to grow and do so quickly; for this, the experts in this field pay special attention to the analytical part to adjust the characteristics of the product or service to the needs of the clients. And to grow quickly without making a large financial investment, it is necessary to attract users to convert them into leads and subsequently into customers. It is here that Inbound Marketing becomes the perfect ally, since its philosophy is based on attracting, converting and delighting leads through the creation of content designed specifically to capture their attention. HubSpot has created a growth guide for startups that you can consult here.


If you want to know more about how to implement a Growth Marketing strategy, relying on the benefits of Inbound marketing, do not hesitate to contact us, we will be happy to help you.