It is already a reality that artificial intelligence (AI) is increasingly present in our lives. Over time this presence will increase. Chatbots are a rapidly expanding area of AI that can fit right into any business's Marketing strategy.
But let's start at the beginning...what is a chatbot?
A chatbot is a computer program with which it is possible to have a conversation, whether you want to ask for some kind of information, carry out an action or, for example, make a reservation at a restaurant.

At mbudo, we have joined in on chatbot fever and created our very own HubSpot chatbot...mbubot! But what's more, our Inbound Marketing agency has started implementing chatbots for our clients in order to strengthen their Marketing strategy and optimize their team and resources. Continue reading below to learn why you should do the same!
You can find mbubot on the mbudo home page!
The Advantages of Using Chatbots
What are the advantages that chatbots can offer companies like yours?
First of all, you'll be able to have large-scale conversations on your website, pages, and social channels. You can integrate HubSpot's Marketing automation into your chatbot strategy to make sure leads go where you want them and appropriate follow up actions are taken.
You will also be able to ease your team's workload since connecting with every single visitor or prospect in real-time is virtually impossible. With chatbots, you can focus on the most important conversations and configure the chatbot to assign those conversations to a representative once they have been qualified.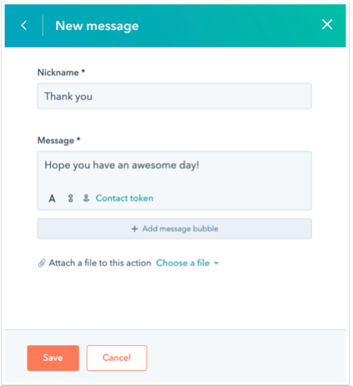 Source: Hubspot
Building a HubSpot Chatbot
The good news is that it is easy to create and customize chatbots directly from the HubSpot platform without being a chatbot expert.
At the moment, HubSpot offers 2 chatbot templates: a chatbot for web and a chatbot for Facebook Messenger. While the Facebook chatbot is much more basic, the HubSpot chatbot for web lets you base the design on your goals and preferences and use the visual editor to customize the conversation in a way that is in tune with the tone and voice of your brand. In addition, integration with the HubSpot CRM allows you to store and track data that is shared with your chatbot.
Source: HubSpot
As evidenced in this post, you can clearly see that there are generally only positive aspects to gain from using chatbots for your business. If you're not ready to leap into chatbots by yourself, partner with mbudo to get the job done!