We're picking up speed! We entered the second day of the HubSpot Conference, INBOUND 2019, pumped up and in full swing.
The day was packed with 26,000+ attendees, including members of the mbudo team. Having already pre-planned our agenda and hand-picked the most valuable sessions, we set off to learn!
Discover what we found most interesting about Day 2 at the HubSpot Inbound Marketing Conference:
Learning 1: Face your fears and be an experience disruptor
For mbudo, the day began at 3 different sessions; we divided and conquered in order to get the most knowledge for our agency. But at mid-day, we all came together for the ultimate spectacle: the Keynote from the co-founders of HubSpot, CEO Brian Halligan and CTO Dharmesh Shah.
Brian came first, speaking about a "new species of disruptor", which he explained is no longer technology disruption but "experience disruption". He gave examples of Carvana, a car vendor company that eliminates the "cringe-worthy process" of buying a car, Atlassian, a tech company with amazing products that goes one step further by removing friction in the contract negotiation stage, and Warby Parker, which mails you glasses to try on instead of having to go down to the store.
Brian noted: "how they sell is why they win". These companies are about creating unique, personalized, friction-less experiences. He encouraged all businesses and agencies to break away from their routines and bust out of the old business model.
Dharmesh Shah at Inbound 2019
Dharmesh is the CTO and naturally an introverted, shy person (although you wouldn't know it from his joke-filled keynote). He spoke about "Facing Fears: Growing Better by Growing Bolder" and how there are 5 fears keeping all businesses back:
Fear of commitment - you need to commit to something, otherwise you compromise on everything
Fear of differences - diversity is important to get other people's perspectives, and you need to prioritize diverse teams from the start.
Fear of change - be flexible, don't fear the future, and always adapt to customer and employee needs (within reason).
Fear of disappointing - don't be scared to disappoint a few, and make sure that you don't offer too much choice.
Fear of inferiority - deliver the experience that you promise and you won't be inferior because you will have built trust.
Brian and Dharmesh's words reached deep into the hearts and minds of every agency, entrepreneur, and aspiring business person at the conference. mbudo will linger on these ideas in order to best adapt them to our agency's goals.
Learning 2: Values are the first step to engage/delight customers
After that, we packed up our laptops and headed over to the session "Becoming a CEO: 5 Mistakes You Wish Your Mentor Warned You About" by Michael Litt, CEO of Vidyard (a platform that mbudo already uses for video!) He spoke about how important employees and your community are in creating values and consistency, which is the first step in engaging and delighting your customers.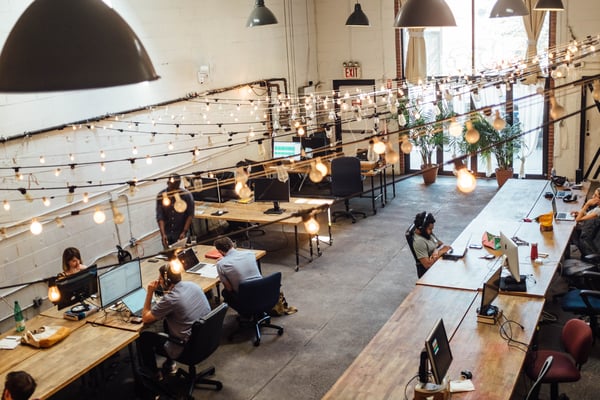 Learning 3: Have a daily commitment to your vision
Lastly, the mbudo team headed over to learn about content, which is so important to us! Entrepreneur Elizabeth Giorgi, CEO and co-founder of Soong and Mighteor, talked about "Making it Last: How to future-proof your content". Her main message was that "audiences are connected on a human level, so be real". She also offered up her top 3 tips for content creation:
Transparency - post about your process, mistakes, behind-the-scenes, etc. Your audience wants to see you.
Bravery - you must have a daily commitment to your vision.
Badassery - make your message stand out.
It's safe to say that we've already gotten our money's worth at this HubSpot Inbound Event. The fact is, hearing from HubSpot experts and connecting with other Marketing professionals has helped with our own personal and professional growth. Plus, you can't be insights direct from the HubSpot creators themselves...
For a HubSpot agency partner based in Madrid but with worldwide clientele, discover mbudo!